Lynn Schnurnberger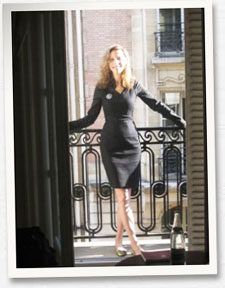 Thank you for finding my author's page—I know it isn't easy to spell Schnurnberger! Happily, I'm also known as "Alliana's Mom." And as the author and co-author of eight books, including Let There Be Clothes: 40,000 Years of Fashion History and the bestselling novels, Mine Are Spectacular! and The Botox Diaries.
I started out as a painter (one of my prints can be found somewhere in the basement of the Museum of Modern Art ); I wrote two award-winning musicals for children; I've been an on-camera reporter and an NBC talk show producer. For two years I popped up regularly on morning television as a media spokesperson for the hosiery industry, demonstrating the proper way to wash pantyhose. (When I was replaced, I'm proud to say it was by Lauren Hutton.) I've been interviewed on Oprah, Entertainment Tonight and Extra, among others, and have written for The New York Times, New York, Reader's Digest, People, Parade and just about every woman's magazine in America. I also founded Foster Pride, a non-profit which provides mentoring and art classes for New York city children and teens in foster care.
In other words, I've had a lot of jobs. I didn't follow a career trajectory so much as to seize opportunities that seemed interesting—and that would pay the rent. Two goals that I'm happy to report didn't prove to be mutually exclusive.
I got into writing accidentally when I ran into a friend of a friend who was starting up a new magazine, I pitched a story idea and remarkably, he told me to give it a go. (It probably didn't hurt that I was a fresh-faced 20-something; we were at a party and the magazine editor was a bit tipsy; and I agreed to write the article for free.) I re-wrote that 500-word piece at least 500 times—I even cancelled a vacation to keep working on it. But I got my foot in the door. And—about twenty years later—I got to write funny novels about the lives of women over forty.
I had a ball writing Let There Be Clothes: 40,000 Years of Fashion History, a cult classic that's chocked full of interesting trivia. And writing the novels has been even more fun, because I get to make things up. The books have been translated into a half dozen languages and they're bestsellers here and in Europe and Latin America. Best of all, writing them has provided me with the opportunity of going around the country to meet the women who read them—and nothing has been more fun than that!